Access to early childhood development (ECD) is critical for a child's holistic development and well-being. According to UNICEF, nearly half of all children under the age of 5 worldwide are not reaching their full developmental potential due to poverty, malnutrition, lack of access to quality education, and other factors. Millions of children in Rupani Foundation's program areas lack access to quality ECD services and resources, putting them at risk of poor outcomes later in life.
EARLY CHILDHOOD DEVELOPMENT
Early Childhood Development (ECD) is the flagship initiative of Rupani Foundation which makes the Foundation as one of the pioneers in introducing innovative ECD programs for prenatal to 8 years old children, families, and caregivers in vulnerable and remote communities in Pakistan. The ECD programs intends to provide a healthy start for optimal development of a child.
It is a unique model which reaches the newly wed couples, pregnant women, parents, grandparents, and children to not only focus on the upbringing of the child but also creating harmony within the family to nurture the child during the most crucial early years of life.
Rupani Foundation seeks to be a leader and catalyst for ECD, transforming the quality of life of young children and their families, building strong institutions, developing curriculum and practices, building the technical capacity of ECD practitioners, caregivers and teaching professionals and contributing to networks, research, and policy.
Pakistan Alliance for Early Childhood (PAFEC), founded by RF, is an exemplary platform to enhance policy engagement and replication of RF' ECD model across program countries.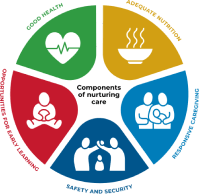 Rupani Foundations ECD interventions encompass a range of delivery models from home-based programs, child-minders and in pre-primary facilities to mobile centers in the remote regions. The Foundation follows a milestone-based approach with an integrated curriculum based on the five interconnected components of the WHO, UNICEF, and WBG Nurturing Care Framework; good health, adequate nutrition, security and safety, opportunities for early learning, and responsive caregiving to improve the cognitive, emotional, social, and physical development of children.

Rupani Foundation ECD Centers
Montessori-based program with integrated High-Scope elements to cater educational needs of children, caregivers, and families from prenatal to 3 years.
This unique program was developed by academic experts and social scientists specifically to focus on a child from prenatal stage to 3 years, and the most important aspect of this model is that parents are engaged from the period of conception till the child graduates from the center.
The overall objective of this program is to empower parents for optimum development of their children and to set a pathway for holistic lifelong learning during the first three years. This setup focuses on holistic development of the child; classes include sensory games, physical movements, music, and cognitive activities like signing and language games as age-appropriate activities are valued.
The traditional ECD programs are mainly targeting children above three years. This is one of the pioneering community-based programs in Pakistan which caters the needs of prenatal to 3 years old children, parents, and caregivers.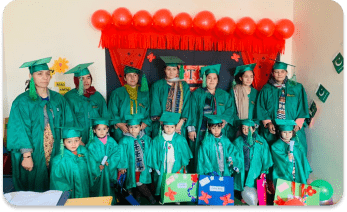 Rupani Foundation's first ECD Center was established in Zulfiqarabad, Gilgit in March 2009 with enrollment of 70 children and mothers. Building upon its success, RF expanded this unique ECD initiative to Hyderabad, Sindh in 2012.
ECD PROGARM COMPONENTS








Rupani Foundation is currently running 92 ECD Centers in Pakistan where more than 2,215 children are enrolled for quality learning and there are more than 6,730 beneficiaries including mothers, fathers and other caregivers of the children in these centres. 92
ECD Centers 92 in Pakistan

6,730
6,730 children, mothers and other caregivers currently enrolled

250
250 FSMs working with ECD Centers

50,000
RF ECD programs benefited over 50,000 children, parents/caregivers