PHOTO GALLERY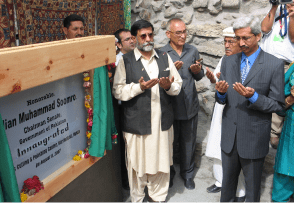 Mr. Muhammad Mian Soomro, the then Chairman Senate of Pakistan, inaugurated the first Gems Cutting and Polishing Center at Karimabad, Hunza in July 2006.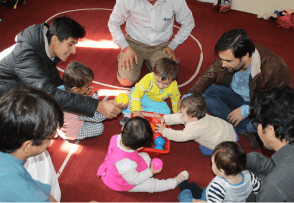 Rupani Foundation formally launched the first innovative ECD Center in March 2009 at Zulfiqarabad, Gilgit to focus on prenatal to 3 years of age children, parents and other caregivers.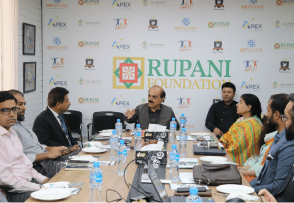 Chief Secretary Gilgit-Baltistan Mohyuddin Ahmed Wani discussing areas of collaboration with the managment of Rupani Foundation and other partners.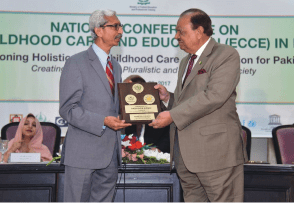 Rupani Foundation's Chairman Mr. Nasruddin Rupani presented memento to the then President of Pakistan Mamnoon Hussain at the International Conference on Early Childhood Development in Islamabad.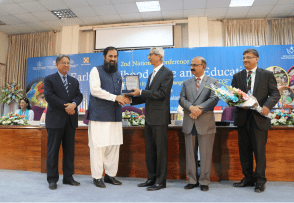 Federal Minister for Education and Professional Training Engineer Muhammad Baligh ur Rehman attended the inaugural ceremony of 2nd National Conference on Early Childhood Care and Education in Islamabad.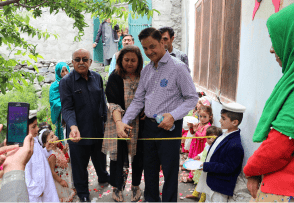 US-based Pakistani philanthropist Mr. Nadir Badruddin inaugurates community-based ECD Center in Chalt, Nagar.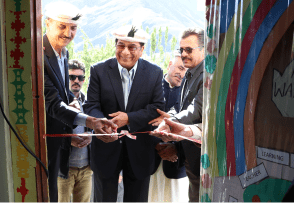 US-based Pakistani philanthropist Mr. Aziz Shareef Jena Bai inaugurates community-based ECD Center in Sost, Hunza.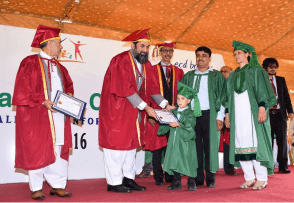 Minister of State for Education, Training, and Standards in Higher Education, Muhammad Baligh Ur Rehman, attended the ECD graduation ceremony and inaugurated the first Early Learning Model (ELM) Center on July 27, 2016 in Gilgit.
Federal Minister of Education Mr. Rana Tanveer Hussain has laid the foundation stone of the Center of Excellence in Early Childhood Development (ECD) in Islamabad.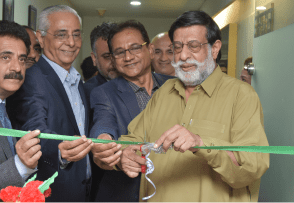 Former Chairman Senate Mr. Mian Muhammad Soomro inaugurates Rupani Foundations' provincial office in Karachi.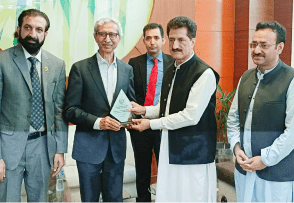 Speaker Gilgit-Baltistan Assembly presenting memento to Chairman Rupani Foundation Mr Nasruddin .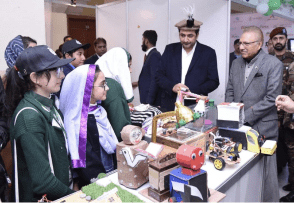 Chief Minister Gilgit-Baltistan Mr. Khalid Khurshid Khan inaugurates the GOGB funded.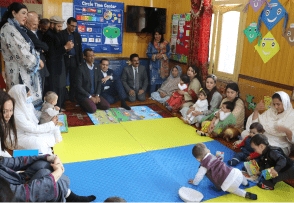 Representative of the United Nations Children's Fund (UNICEF) in Pakistan Abdullah A. Fadil, along with a delegation, visited the Rupani Foundation Early Childhood Development Center in Zulfiqarabad, Gilgit.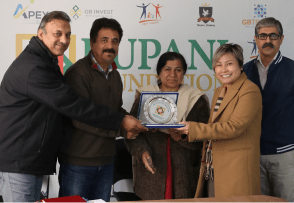 Deputy Country Representative UN Women Pakistan Ms. Jacqui Ketunuti visited RF Core Office and ECD Center in Zulfiqarabad, Gilgit.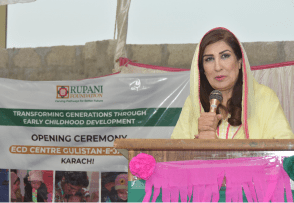 Sindh Women Development Minister Syeda Shehla Raza inaugurated the Rupani Foundation Early Childhood Development (ECD) Center in Gulistan-e-Jauhar, Karachi.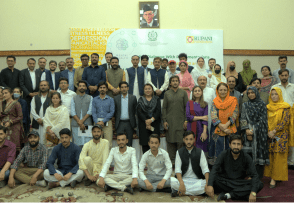 Rupani Foundation conducts policy dialogue with parliamentarians and other relevant stakeholders in Gilgit on the critical issue of mental health and suicides in Gilgit-Baltistan.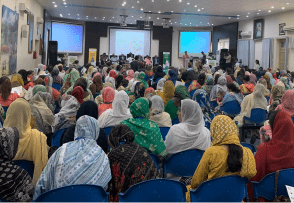 Rupani Foundation hosted the First Conference on Prenatal Care in Gilgit-Baltistan to initiate discussions and create awareness about the issues and solutions regarding the most critical.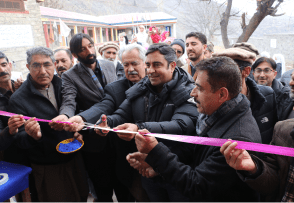 Secretary Education Mr. Rana Muhammad Saleem Afzal inaugurated the first community -based center at Government Girls School Feena Astore.
Breaking Barriers: Rupani Foundation empowered women with non-traditional masonry skills by training over 100 women and a total of 1500 individuals in this trade.